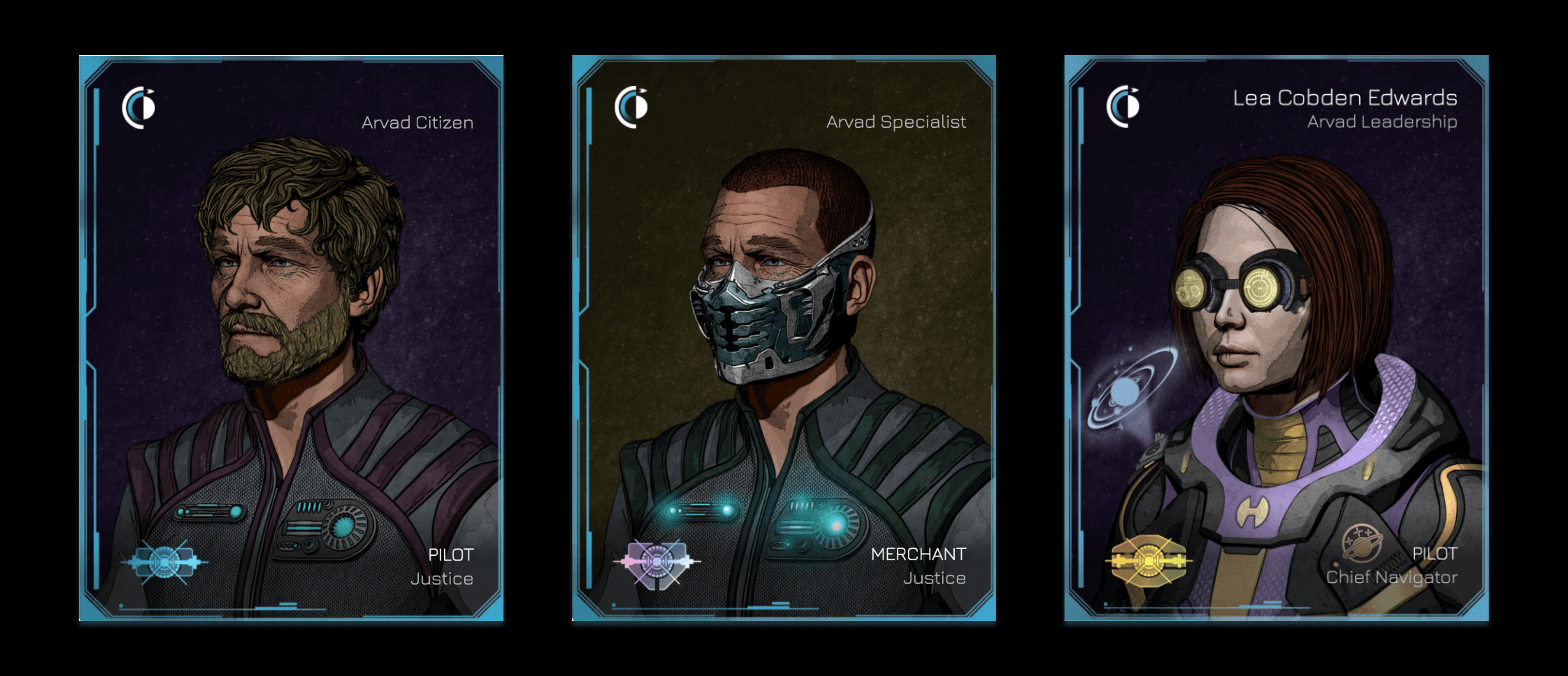 Crewmates are your in-game characters. They allow you to specialize in the professions that interest you, gaining more experience and aptitude as you play. Many of the skills and talents you unlock will derive from the crew you outfit.
Crewmates are also NFTs that you own. Influence records every action you make with your crewmates in-game on the blockchain, writing permanent lore that remains connected to each crewmate forever.
You can have up to five active crewmates per account but may own as many as you want. You can make a crewmate active or inactive, or "hire" and "fire" them into your crew, at any time. Using different crewmates opens up diverse skill trees and talent paths.
Pilots fly your ship. From fuel economy to combat maneuvers, the pilot is your guide. They tend to be intelligent, hot-headed, and have A-type personalities. Utilize your pilot wisely to get where you need to go safely and efficiently.
"If have one more 'make it so' captain argue with me about what the laws of physics will and will not allow, I'm gonna hang up my wings and get a new gig. You have any idea how much math is involved every time you point at 'the second star to the right' or whatever?"
Merchants are driven by the art of the deal. They care about the flow of money and the liquidity of resources within the belt more than anything. Their skills can reduce transaction fees and provide insight into the markets. Merchants are for players who like to work the numbers and plan things out in spreadsheets.
"Some people—you know who they are, I'm sure—think that a century and a half of having all our needs provided by the Arvad has made us a kinder, more caring kind of human. That free market capitalism got somehow left behind at the edge of the Solar System. Anyone that's played poker, or watched an AstoBaller push themselves to the limit for a win…yeah, they know that competition didn't go away. Sure, it's retreated. But it's just been waiting for conditions to change. Capitalism is back on, baby! The markets are waking up! And some poor sucker is going to be paying me for the air they are breathing before the end of the month, mark my words." - Cornelius Bain
Scientists understand that knowledge is power. Skilled Scientists discover breakthroughs, develop powerful technologies, build advanced ships, improve processes, and peer into others' inventions and blueprints. Players passionate about understanding how the system is constructed benefit most from their Scientists.
"We're in a new solar system, surviving by the skin of our teeth and the ingenuity of our engineers. I don't have the time or the luxury to not know things. Let the bureaucrats, the politicians, the philosophers, or whoever figure out the 'why's' of morality and the 'what's' of ethics; I'll figure out how to keep us all alive." - Areanna Clovar
Miners love the thrill of uncovering valuable and useful resources, working up a sweat, and knowing where the good deposits are likely to be. Many consider Miners to be big and dumb, but without their skill, brawn, and work ethic, Adalia would fall apart instantly.
"Spent more than half my life inside the Arvad, looking at the same plain white walls and all those narrow curving hallways. Breaking rocks is certainly a lot more work, but man, you can't beat these views!"
Engineers look at a blank canvas with joy. They are enlivened by the idea of building out the colonies within the belt and see Adalia as an endless source of challenges and opportunities. Engineers allow you to build more efficiently, increase productivity, and construct the most complex infrastructure.
"You want to do something, you need power. That's easy. But when you make power, that makes heat. Oh, and using the power makes heat, too. So now you need cooling. Well, that takes power too. And that heat needs to go somewhere, so that's a transfer fluid and that means plumbing. Oh, and you'll probably want to control whatever it is, too, so now we need buttons and knobs. But you need to know what is happening with what you are controlling, so you need sensors and displays. You need hardware and software to see and understand and do and tell it all when to stop. Oh, and those things all use power and make waste heat, too, which changes those very first numbers again. Get it? That's why it's seven different engineering disciplines and the final product weighs a metric tonne and costs a pile of SWAY."
Arvad Department Head:

Only 13 of these exist. Each important historical figure helped lead the ship that brought everyone to Adalia. They also have the highest bonus attributes of any other crewmate.

Arvad Specialist:

Only 1,859 of these exist. Each Specialist was aboard the Arvad before arriving at Adalia. They have the second-highest bonus tier a crewmate can achieve.

Arvad Citizen:

Only 9,241 of these exist. Each Citizen was aboard the Arvad when it arrived in Adalia. They have the third-highest bonus tier a crewmate can achieve.

Adalian:

Any number can exist. Each Adalian was born after arriving in Adalia. They have no bonuses, and you can mint any number of them.
A crewmate with the Department Head, Specialist, or Citizen distinction will also have a job title. Job titles are the roles they performed on the Arvad, the ship that brought everyone to Adalia.

There are thirteen categories of jobs; each category has four titles and one unique Department Head.

A crewmate "inherits" bonuses in-game from its job title, and the size of that bonus depends on the title's tier. "Tier 1" is the highest possible bonus a Citizen or Specialist can have. The number of job titles available across each category varies, but "Management" is the most highly skilled and rarest of them all. These bonuses are still being developed and balanced.
NOTE: If you would like to learn more about crewmate bonuses or have other questions about Influence development, please attend our Tuesday Adalaian Chat (13:00 PST / 21:00 UTC) in Discord: LINK TO DISCORD
Statistically speaking, only half of every job title should exist per category for each tier of job titles below it. Example: 100 teaching assistants, 50 teachers, 25 professors, 12 Distinguished Professors. Crewmates with tier 1 job titles are extremely rare.
¶ Job Title Tiers and Categories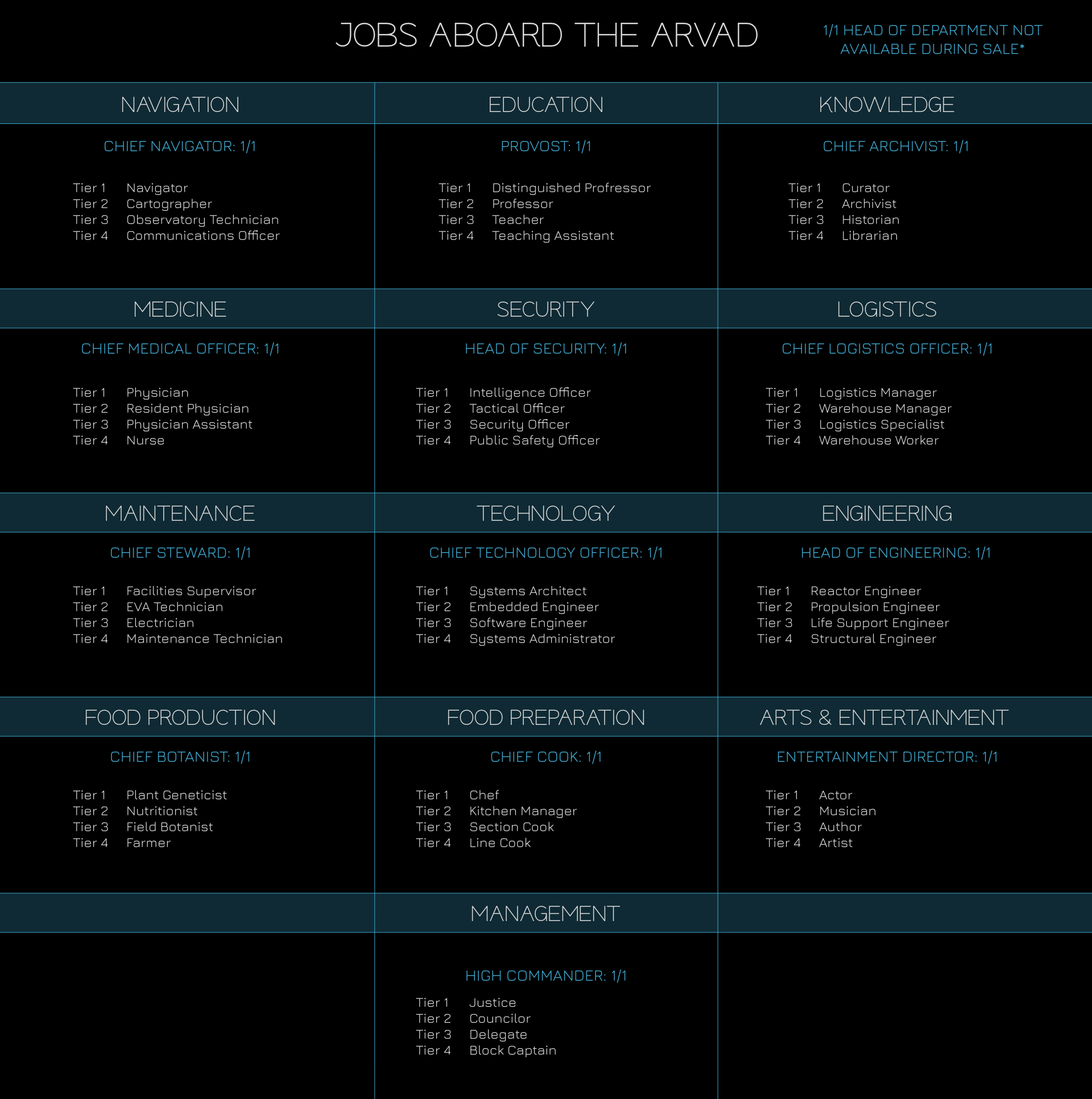 You can browse every Influence crewmate and purchase them from other players on OpenSea: LINK TO OPENSEA