Within Influence, Asteroids serve as your land in-game. They will allow you to build infrastructure and participate in the ever-changing and growing universe within Influence. Adalia is made up of 250,000 asteroids, each with a unique composition of materials, and varying attributes that allow it to produce a unique play experience for the owner of the land. Asteroids can also be leased out and players who want access to multiple asteroids may rent or own multiple asteroids.

The cost of asteroids varies by the size of the asteroid. The larger the asteroid the more expensive it is, but the more space you have to build and or lease out space on.

Asteroids come in all different types and sizes, in addition to their location, rotation, and inclination. But when looking at them simply, you will get a few main factors.
Size
Spectral type
Bonuses/Rarity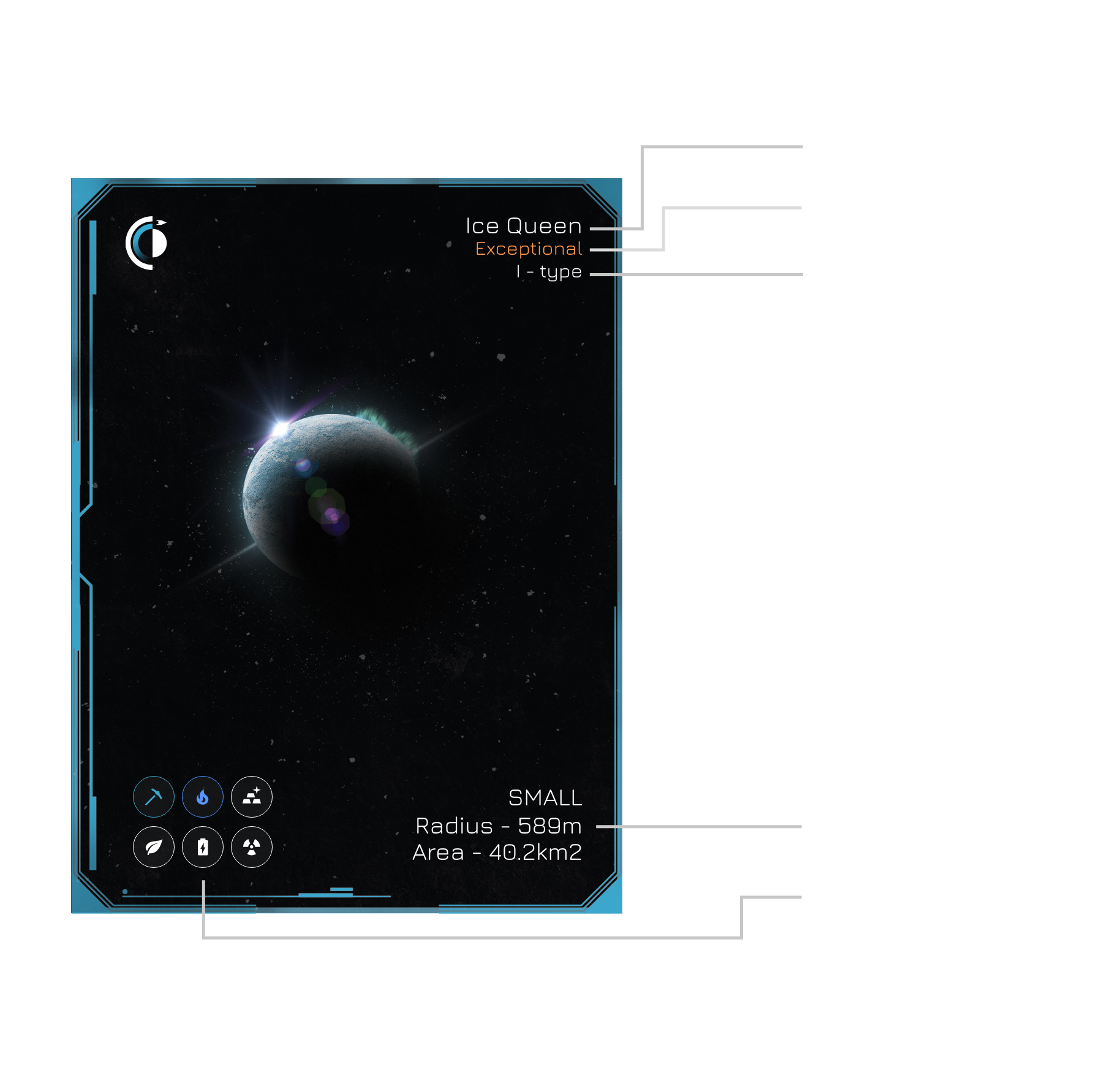 NAME: Unique names can be given but also can be changed at the owner's will.
SPECTRAL TYPE: This corresponds with the type of asteroid it is. There are 11 different types.
SIZE: There are four size categories, but within each category of size there is a gradation of sizes within that category. So when looking at Opensea, it is better to look at the "AREA" than the "SIZE" to see how big it actually is. A rough estimate for the number of players that can play on an asteroid is 13km2 per player on the low end and 25km2 on average for a more supportive industry. The smallest asteroids are 13km2 and will be great for casual play, but scaling up is ideal for serious gamers.

SMALL: 13km2 to 314km2
MEDIUM: 315km2 to 5,027km2
LARGE: 5,028km2 to 31,000km2
HUGE: 31,700km2 to 1.77m km2
there are six grades of rarity, each with a different approximate chance of rolling said bonuses while scanning asteroids.
Common: ~50%
Uncommon: ~35%
Rare: ~10%
Superior: ~5%
Exceptional: ~1%
Incomparable: ~.1%
There are 6 categories of bonuses. Each of the 11 spectral types has the ability to attain some of the 6.
Overall Yield: Applies bonus yield to all resources mined
Volatiles: Applies bonus yield to all volatile resources mined
Organics: Applies bonus yield to all organic resources mined
Metals: Applies bonus yield to all metal resources mined
Rare Earth: Applies bonus yield to all rare earth resources mined
Fissile: Applies bonus yield to all fissile resources mined
Each type of asteroid has between 2 and 6 bonuses it can attain. These bonuses largely make up the asteroid "Rarity," along with its size as a factor. Equating to, about 55% of Adalia will be composed of "Common" asteroids that have no bonuses and 45% that have bonuses.

Below is the chart to identify our bonus level have and the % increase in yield specific to the resource group.

On approach to Adalia, the pioneers executed a system-wide scan of all major and minor bodies, including the 250,000 asteroids exceeding a radius of 1km. Spectral types were assigned based on their emission spectrum, color, and surface albedo. The four most prominent groupings were assigned types C, S, M, I with the remaining asteroids composed of portions of them.
C-type (carbonaceous) asteroids are the most common spectral type, with 65% being pure C-type. Composed of carbon compounds, water, and minerals like Serpentine and Olivine, they are found throughout the belt, inner, main and outer, but have the highest concentration in the main belt, around 2 AU semi-major axis. C-type is also found in Cm, Ci, Cs, Cms, and Csi mixed-type asteroids.
S-type (stony) asteroids are the second most common spectral type, with under 10% being pure S-type. They are composed of iron and magnesium silicates like Pyroxene, Olivine, and Chromite and contain little to no water. They are found predominantly in the inner and main belts with the highest concentration around 1.6 AU semi-major axis. S-type is also found in Cs, Cms, Csi, Sm, and Si mixed-type asteroids.
M-type (metallic) asteroids are fairly uncommon, with less than 5% being pure M-type. They are bright asteroids that are the remaining pieces of the metallic core of early minor planets and made up primarily of nickel-iron. They are found in the main belt with the highest concentration around 1.8 AU. M-type composition is also found in Cm, Cms, and Sm mixed-type asteroids.
I-type (icy) asteroids are the rarest and least accessible with only 1.25% in the main belt being pure I-types. They are very dark and composed of rock and frozen volatiles like methane, ammonia, and water. They are found solely in the extreme outer belt around 3 AU and orbit in the L4 and L5 Lagrange points of the massive Adalia C planet.
The spectral types are distributed throughout the main belt in varying compositions. The results of the survey have been plotted: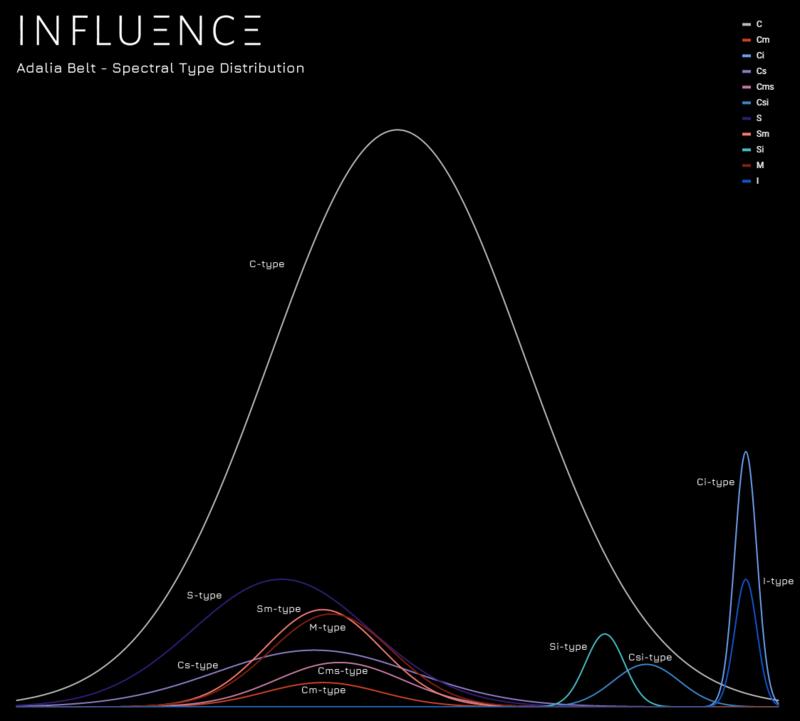 ¶ Main Belt Distribution
| | | |
| --- | --- | --- |
| Spectral Type | Total # | % of System |
| C-type | 130,000 | 65.00% |
| Ci-type | 5,000 | 2.50% |
| Cis-type | 2,500 | 1.25% |
| Cm-type | 2,500 | 1.25% |
| Cms-type | 5,000 | 2.50% |
| Cs-type | 10,000 | 5.00% |
| I-type | 2,500 | 1.25% |
| M-type | 10,000 | 5.00% |
| S-type | 20,000 | 10.00% |
| Si-type | 2,500 | 1.25% |
| Sm-type | 10,000 | 5.00% |
| | | |
| --- | --- | --- |
| Spectral Type | Total # | % of System |
| C-type | 13,750 | 27.50% |
| Ci-type | 7,500 | 15.00% |
| I-type | 28,750 | 57.50% |
There are five core economic resource categories, Volatiles, Metals, Organics, Rare Earth, and Fissile in addition to a variety of non-economic resources (i.e. generally abundant):
Volatiles are primarily used for fuel and life support.
Metals are primarily used for building structures and ships.
Organics are primarily used for life support, lubricants and plastics.
Rare Earth elements are primarily used for energy storage and advanced manufacturing processes.
Fissile materials are primarily used for energy production.
Non-economic resources are used primarily for structural materials and constructions
High-level resource distribution (low, medium, high) by spectral type is shown below based on initial surface scans and minimal core sampling on asteroids near Adalia Prime. Core sampling specific asteroids is likely to identify substantial local variation.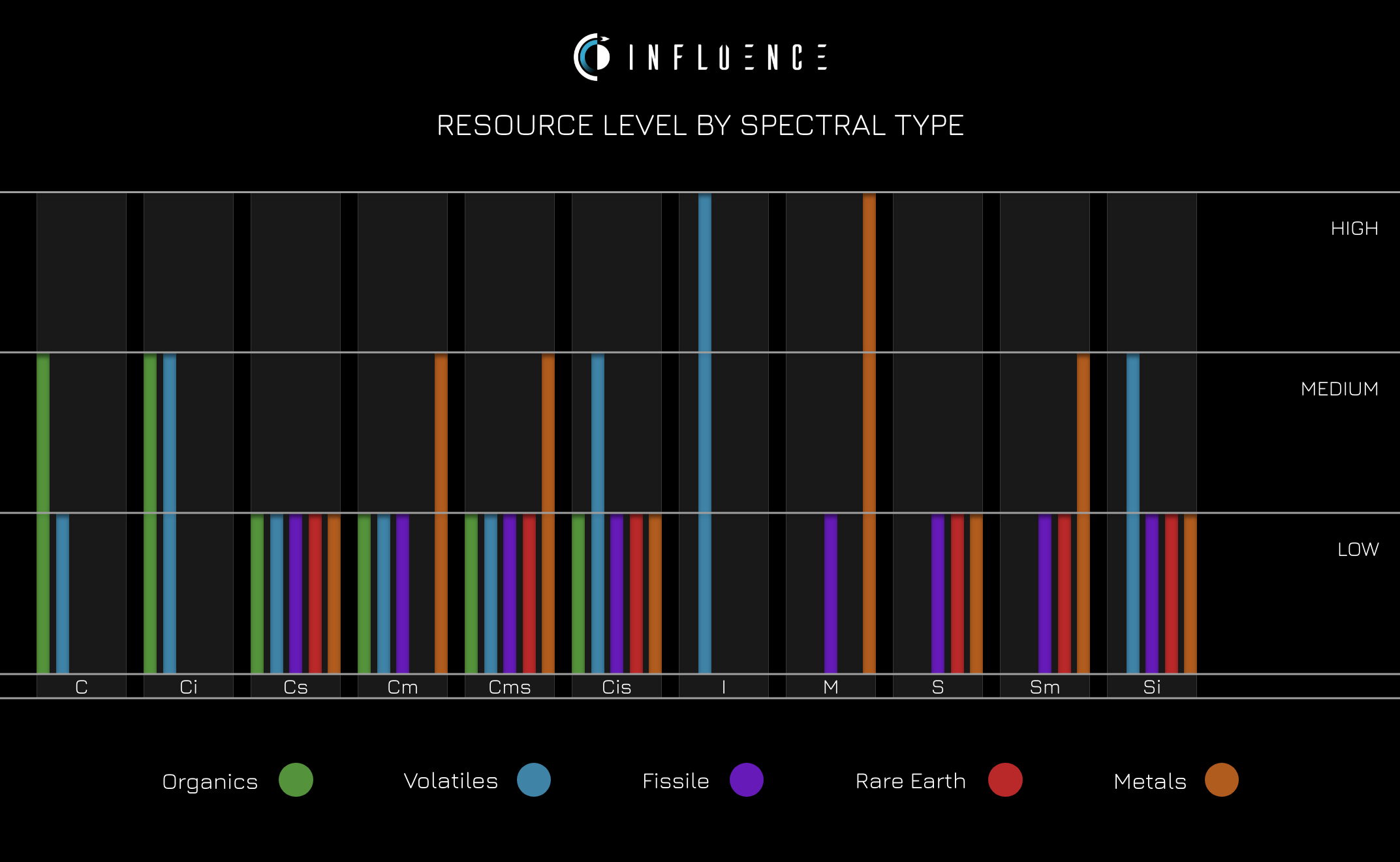 As the asteroids in Adalia orbit with realistic orbital mechanics, it's important to understand how orbital elements affect the position of your asteroid(s). There are six Keplerian orbital elements that define the current position of an asteroid at any time. The most important of those are:



The orbital period is the amount of time it takes to complete one full orbit of the star Adalia. The orbital period determines which other asteroids are co-orbital (identical orbital period) and resonant (even multiples of the orbital period). Orbital periods of 1981 days and less are considered part of the Main Belt while Trojans are all co-orbital with each other at 2826 day orbital periods.
Asteroids with similar Orbital Periods will tend to stay about the same distance from each other, whether that means they stay close or on opposite sides of the belt at all times. Asteroids with different Orbital Periods will drift away from each other fairly quickly, regardless of how close they are to each other at the moment.
The semi-major axis is the average of your asteroid's closest approach to Adalia (periapsis) and its furthest distance from Adalia (apoapsis) and is measured in Astronomical Units (i.e. the distance from Earth to the Sun in the Solar system).
The Semi-Major Axis is a measure of distance, but can easily be converted into an Orbital Period, which is a measure of time. The community favors using the OP over the SMA.
The inclination is measured in degrees or radians and identifies the "tilt" of your orbit in relation to the Adalian system plane.
Highly inclined asteroids will spend a quarter of their orbits well above the orbital plane, and a quarter equally far below it. This means you will need to factor in additional diagonal travel distance for fully half of their orbits, making them more remote and difficult to reach. Lower amounts of inclination are generally preferred.
Eccentricity measures how far from perfectly round your orbit is. 0.0 is perfectly round, and the more oval-shaped orbits have higher Eccentricity. Distance from Adalia star and orbital speed varies throughout the orbit, but the averages will be your Semi-major Axis and Orbital Period, respectively.
More eccentric orbits will vary more wildly in distance from the Start Adalia and orbital speed, causing them to have more variety in the number and type of asteroids they will pass near to. This could be desirable, depending on specific strategies, but asteroids with lower eccentricities will be more predictable and easier to plan travel to and from.
Although any player can enter orbit around an asteroid, the asteroid surface is accessed via Spaceports which must be built by ships capable of landing on the undeveloped surface of asteroids. During Exploitation, this role is filled by the Light Transport ship. Once Spaceports are present, the Spaceports themselves can be set to allow all parties, allow only the owner, or can include a whitelist to restrict access to specific addresses. Spaceport access will be evaluated at the initiation of each journey allowing those who are already in flight to land even if their access had subsequently been barred.
Asteroid owners are able to create leases for any or all of their lots by setting several standard parameters. Additionally, leases can include a whitelist which allows lots to be restricted to a specific set of addresses. Leased lots come with no explicit limitations, but can include implicit restrictions communicated by the asteroid owner which may result in non-renewal of lease terms. Leases may also be modified with the agreement of both parties.
Rent - denominated in SWAY per Adalian year (~15 real days).
Term - in Adalian years which defines the initial length of the lease term.
Renewal option in Adalian years which allows the tenant to renew their lease without intervention by the asteroid owner.
Notice period - in Adalian years which identifies how much advance notice is required from the asteroid owner to terminate a lease contract. This period is set to a minimum of one Adalian year and is only valid after the completion of a term and / or renewal option period when the tenant has begun paying on a year-to-year basis.
Eviction period - in Adalian years which is set to a minimum of one Adalian year. This gives tenants that have stopped paying an opportunity to catch up on payments, or arrange to move their assets off-asteroid.
https://opensea.io/collection/influenceth-asteroids