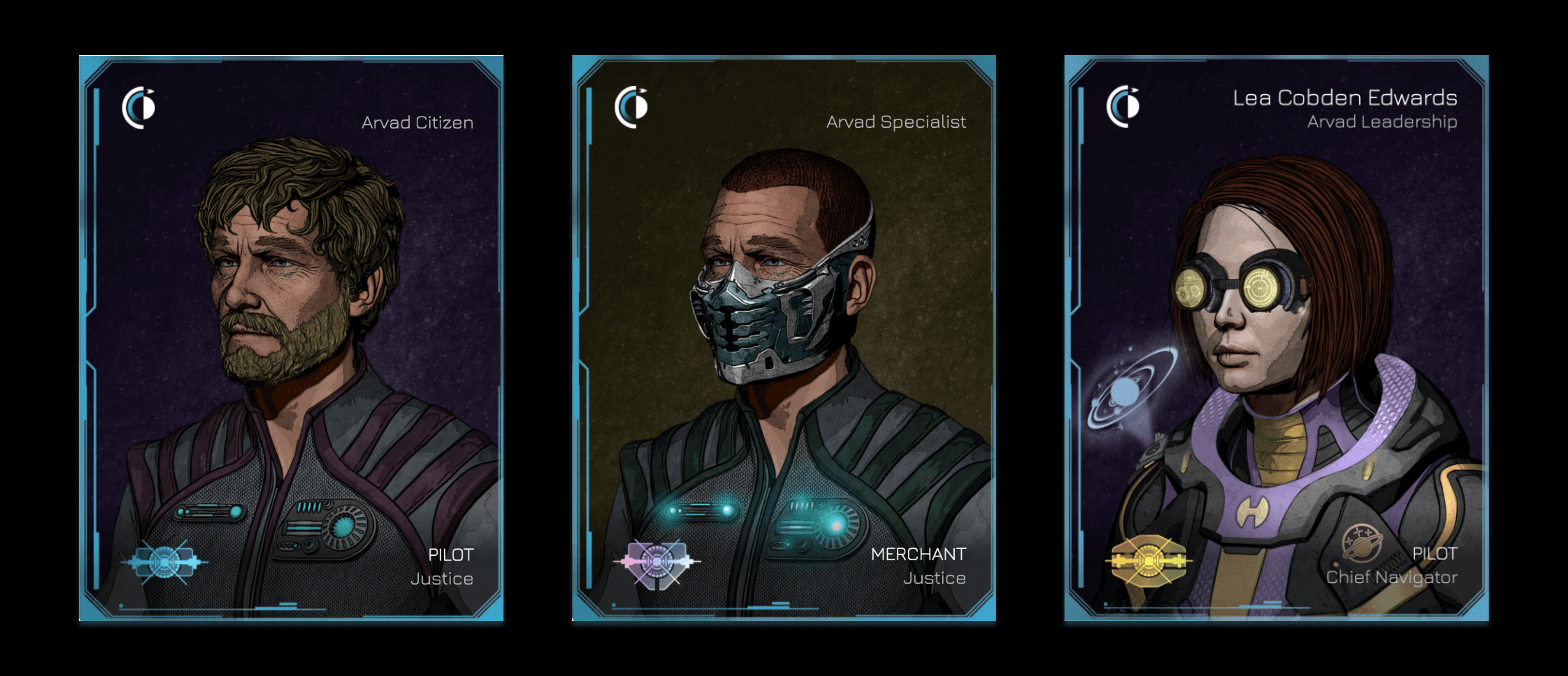 Crewmates are your characters in-game. They allow you to take actions, specialize in the various roles you can play, and interact with Influence. You do not control these Crewmates in first or third person, but each action you take is completed as if you are doing it with all of your various active Crewmates as a single unit (a "crew").
A crew is required to play Influence and is made up of at least one, and a maximum of five, active individual Crewmates, one of which must be selected as the Captain.
Each player can have as many Crewmates as they want, but are limited to having five active at any given time. Any Crewmates over the number five will have "inactive" status and must be stationed at a Habitat. Players may also have multiple accounts.
When inspecting your profile other players will be able to see your various crewmates that make up your crew, their stats, their bonuses, and of course their unique outfit and looks.
Recruitment is the process wherein players create a new Adalian Citizen. Adalian Citizens are Crewmates who were born in Adalia, rather on the Arvad (the ship that brought the original colonists to Adalia).
Initially, Crewmates may be recruited on Adalia Prime. Eventually, Crewmates may be recruited at any player-owned Habitat. When a Crewmate is first recruited, players can choose their appearance, choose one of five classes, choose from several traits, and set a unique, immutable name.
When a Crewmate is recruited players choose to assign the Crewmate to one of five classes. This class assignment cannot be changed. Crews can be formed with any arrangement of classes, ranging from one Crewmate per class, to five Crewmates all with the same class. There are benefits and drawbacks to each approach. Each of the classes has a set of actions, which, when performed by a crew with that class represented, experiences no penalties. The same actions performed by a crew without the relevant class represented will be penalized in speed and/or efficiency. Crew which includes multiple Crewmates with the same class will receive a bonus to that class's actions, but with diminishing returns for each additional duplicate.
Engineer
Merchant
Miner
Pilot
Scientist
If there is a problem, an engineer will find an answer. Whether it is buildings, ships, or processes, engineers are thrilled to be the one to solve the puzzle.
Class-aligned actions which are relevant in Exploitation include the following:
Refinery operation
Factory operation
Shipyard operation
Building construction
Predicting the ebb and flow of the market is about more than just the raw data, it is about anticipating the needs and desires of humanity- this is what merchants strive to understand.
Class-aligned actions which are relevant in Exploitation include the following:
Market trading
Surface transport
On the surface it appears that miners value their strength over their brains, but like their quarry, the reality lies underneath: they are highly skilled and erudite in their area of expertise.
Class-aligned actions which are relevant in Exploitation include the following:
Core sampling
Raw material extraction
Often restless, always ready for adventure, pilots are happiest when flying. Their expertise gets them and their crew where they want to go quickly, safely, efficiently.
Class-aligned actions which are relevant in Exploitation include the following:
Motivated by a desire to expand human knowledge, scientists learn from the past, while keeping their gaze steadily on the future.
Class-aligned actions which are relevant in Exploitation include the following:
Food consumption
Food production
The impact on the efficiency of each action, based on the number of class-aligned Crewmates present on a crew: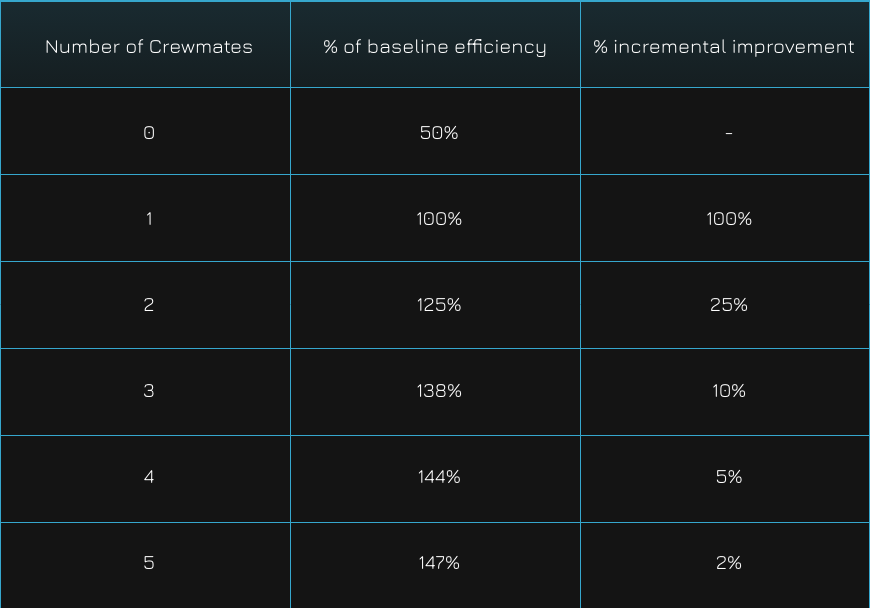 Certain impactful traits associated with Crewmates, granted during the initial recruitment process, through events, or through crew assignments for Arvad Crewmates, provide for bonuses. These bonuses further modify the actions above, and, prior to Discovery, are the source of variation amongst crew. The following impactful traits are present in Exploitation and selectable as part of the Crewmate creation process (or earned through events or during the Arvad crew assignments):
NOTE: Certain traits have effectiveness at time of Exploitation, some at the time of the "repair" update, and others at time of Discovery.
3 Traits become impactful with the release of repair / reprocessing during Exploitation
4 Traits become impactful upon the release of Discovery
Pilot
Engineer
Merchant
Miner
Scientist
Buster - increased top ship acceleration4
Navigator - increased ship propellant efficiency
Operator - reduced rate of wear during ship operation3
Builder - reduced material requirements for building construction
Mechanic - decreased cost for ship repair3
Refiner - increased refining yield while refining raw materials
Hauler - increased ship cargo capacity
Logistician - reduced surface transport fuel costs
Mogul - increased market volume capacity
Prospector - increased viability gain per core sample
Recycler - decreased loss when reprocessing materials
Surveyor - increased core sampling speed while surveying an asteroid
Dietitian - decreased food consumption by crewmates
Experimenter - decreased time to next invention4
Scholar - decreased time to next technology4
¶ Additional Features and Information
Food
Stories
Events
Skills
Each Crewmate consumes one ton of Food per Adalian year (~15 real days). Food reserves will dwindle regardless of actions taken and once empty, will not allow the crew to: start an Extractor, Refinery, Factory, or Shipyard process, construct a building, start a flight, utilize instant surface transport or activate an inactive Crewmate. Manual surface transport and market orders are possible when Food reserves are empty. The rate of Food consumption can be reduced by the presence of a Crewmate with the Dietitian trait, as well as the stationing of the crew in a Habitat building.
Crewmates that do not take an action, or are inactive, for over one Adalian year (~15 real days) will have their Food cost capped at one ton per Crewmate upon their next action/activation. In cases in which Food is unobtainable, the crew is able to evacuate via their Hab Module at low speed to a nearby asteroid.
Logs of each Crewmate's actions are kept and visualized and can be further embellished by the player. Any individual event can have additional context added which will be visible to all players when viewing the Crewmate's profile. The content may be edited until such time the Crewmate is transferred to another player, at which point all previously created content becomes immutable.
Crew events are short, branching storylines with meaningful decisions that impact the player's Crewmates. These events are integrated into the SWAY activity incentives, and allow for the continued distribution of SWAY in a targeted manner. Crew events may result in the assignment of new traits to Crewmates, or provide the option to switch between mutually exclusive traits. Events are pseudo-random, and can be triggered based on the presence of certain classes present in the crew, as well as on the completion of particular actions (ex. an event that is triggered by landing at an unexplored asteroid).
Each class has access to a class-specific skill tree, and although skills will not be introduced until Discovery, experience related to skills will be tracked throughout Exploitation. Upon the release of Discovery, crewmates with experience will start further along their relevant skill tree. Note: traits are distinct from, and may stack with, skills.
Prior to the launch of Exploitation, roughly 11,000 Crewmates already exist. These Crewmates represent the crew of the Arvad generational ship and were distributed to participants in previous asteroid sales or auctioned.
Arvad Department Heads
Arvad Specialists
Arvad Citizens
A limited set of 13 Crewmates representing the departments of the Arvad. Each Crewmate was auctioned over the course of 4 months. They include unique uniforms and the highest trait-related bonuses in-game.
A set of 1,859 Crewmates that were granted to holders of the asteroids purchased during the "Arrival" sale. Arvad Specialists have a higher chance of carrying a higher tier Arvad job role which in turn provides a department-aligned bonus trait.
A set of 9,241 Crewmates that were granted to holders of the asteroids purchased during the "Populate the Belt" sale. These Crewmates also carry a department-aligned bonus, but are more likely to carry a lower tier Arvad job role.
Job Bonuses
Jobs
Rarity
Navigation: Bonus to ship speed/fuel usage
---
Education: Bonus to learning
---
Knowledge: Bonus to research variety
---
Medicine: Bonus to max ship speed/damage reduction/food consumption efficiency
---
Security: Bonus to ship damage/damage reduction
---
Logistics: Bonus to storage/reduction in surface transport costs
---
Maintenance: Bonus to building & ship operating efficiency
---
Technology: Bonus to research speed
---
Engineering: Bonus to refining/manufacturing efficiency
---
Food Production: Bonus to food production
---
Food Preparation: Bonus to food consumption efficiency
---
Arts & Entertainment: Bonus to market fee efficiency
---
Management: Bonus to the overall efficiency
---
A crewmate with the Department Head, Specialist, or Citizen distinction will also have a job title. Job titles are the roles they performed on the Arvad, the ship that brought everyone to Adalia.
There are thirteen categories of jobs; each category has four titles and one unique Department Head.
A crewmate "inherits" bonuses in-game from its job title, and the size of that bonus depends on the title's tier. "Tier 1" is the highest possible bonus a Citizen or Specialist can have. The number of job titles available across each category varies, but "Management" is the most highly skilled and rarest of them all. These bonuses are still being developed and balanced.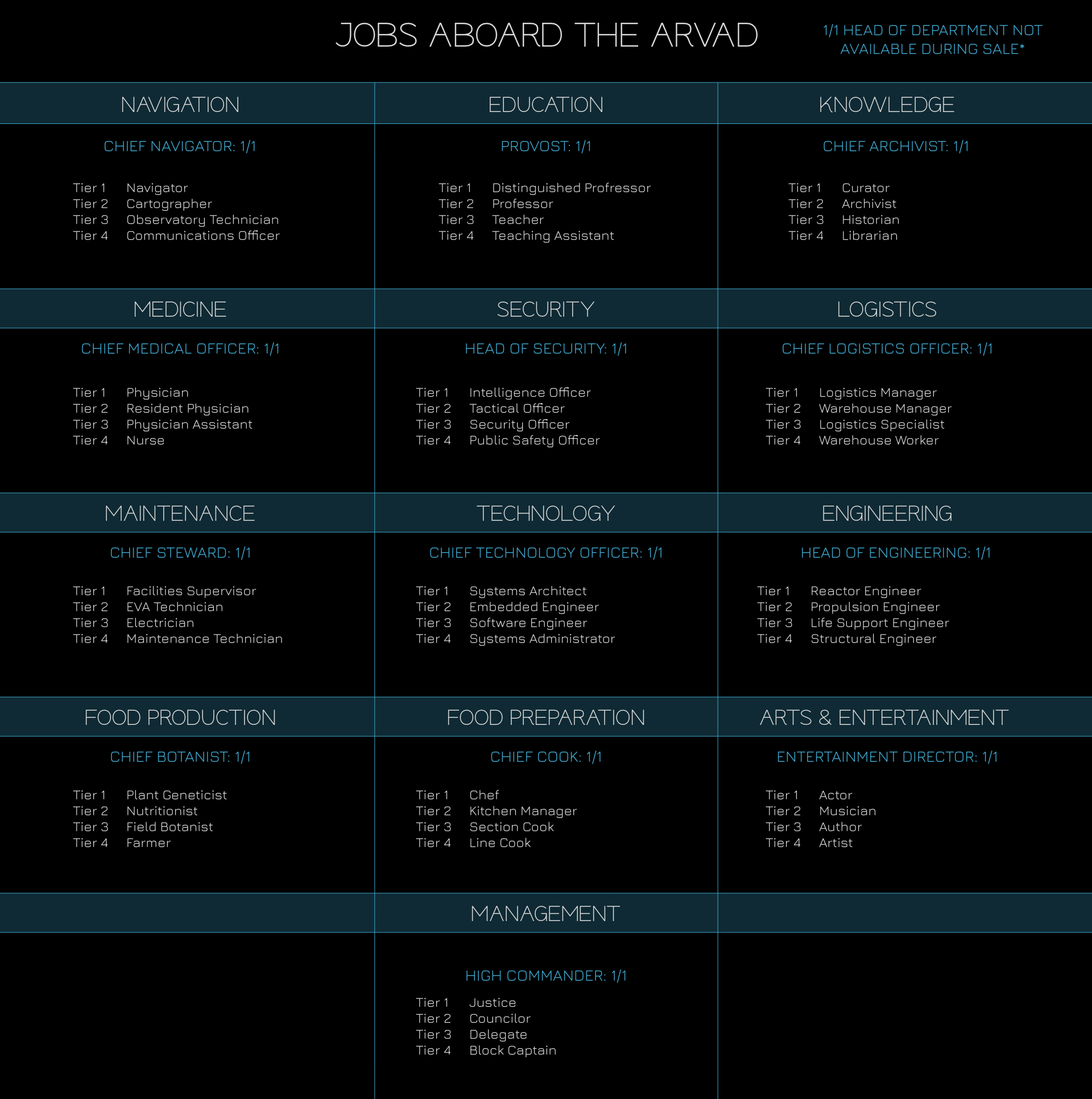 Statistically speaking, only half of every job title should exist per category for each tier of job titles below it. Example: 100 teaching assistants, 50 teachers, 25 professors, 12 Distinguished Professors. Crewmates with tier 1 job titles are extremely rare.
You can browse every Influence crewmate and purchase them from other players on OpenSea: LINK TO OPENSEA