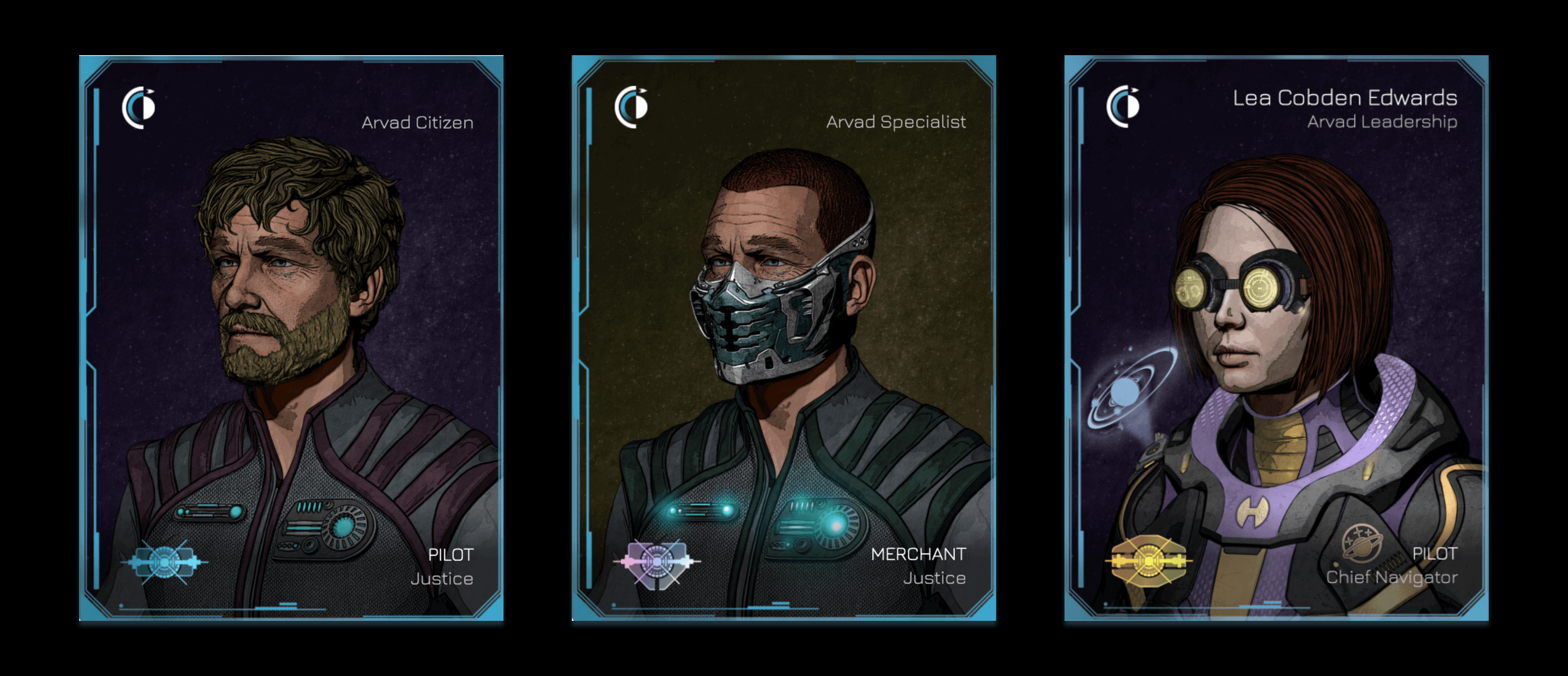 A crew is required to play Influence and is made up of at least one, and a maximum of five, active individual Crewmates, one of which must be selected as the captain. Additionally, players may have more than five Crewmates, but they must be in "inactive" status and be stationed at a Habitat.
Prior to the launch of Exploitation, roughly 11,000 Crewmates already exist. These Crewmates represent the crew of the Arvad generational ship and were distributed to participants in previous asteroid sales or auctioned.
A limited set of 13 Crewmates representing the departments of the Arvad. Each Crewmate was auctioned over the course of 4 months. They include unique uniforms and the highest trait-related bonuses in-game.
A set of 1,859 Crewmates that were granted to holders of the asteroids purchased during the "Arrival" sale. Arvad Specialists have a higher chance of carrying a higher tier Arvad job role which in turn provides a department-aligned bonus trait.
A set of 9,241 Crewmates that were granted to holders of the asteroids purchased during the "Populate the Belt" sale. These Crewmates also carry a department-aligned bonus, but are more likely to carry a lower tier Arvad job role.
For new players, and players who do not have a full crew of five individual Crewmates, in order to obtain a Crewmate they must "recruit" one. Initially, Crewmates may be recruited on Adalia Prime. Eventually, Crewmates may be recruited at any player-owned Habitat. When a Crewmate is first recruited, players can choose their appearance, choose one of five classes, and set a unique, immutable name.
When a Crewmate is recruited players choose to assign the Crewmate to one of five classes. This class assignment can not be changed. Crews can be formed with any arrangement of classes, ranging from one Crewmate per class, to five Crewmates all with the same class. There are benefits and drawbacks to each approach. Each of the classes has a set of actions, which, when performed by a crew with that class represented, experiences no penalties. The same actions performed by a crew without the relevant class represented will be penalized in speed and/or efficiency. Crew which includes multiple Crewmates with the same class will receive a bonus to that class's actions, but with diminishing returns for each additional duplicate.
Class-aligned actions which are relevant in Exploitation include the following:
Refinery operation
Factory operation
Shipyard operation
Building construction
"You want to do something, you need power. That's easy. But when you make power, that makes heat. Oh, and using the power makes heat, too. So now you need cooling. Well, that takes power too. And that heat needs to go somewhere, so that's a transfer fluid and that means plumbing. Oh, and you'll probably want to control whatever it is, too, so now we need buttons and knobs. But you need to know what is happening with what you are controlling, so you need sensors and displays. You need hardware and software to see and understand and do and tell it all when to stop. Oh, and those things all use power and make waste heat, too, which changes those very first numbers again. Get it? That's why it's seven different engineering disciplines and the final product weighs a metric tonne and costs a pile of SWAY."
Market trading
Surface transport
"Some people—you know who they are, I'm sure—think that a century and a half of having all our needs provided by the Arvad has made us a kinder, more caring kind of human. That free market capitalism got somehow left behind at the edge of the Solar System. Anyone that's played poker, or watched an AstoBaller push themselves to the limit for a win…yeah, they know that competition didn't go away. Sure, it's retreated. But it's just been waiting for conditions to change. Capitalism is back on, baby! The markets are waking up! And some poor sucker is going to be paying me for the air they are breathing before the end of the month, mark my words." - Cornelius Bain
Core sampling
Raw material extraction
"Spent more than half my life inside the Arvad, looking at the same plain white walls and all those narrow curving hallways. Breaking rocks is certainly a lot more work, but man, you can't beat these views!"
"If have one more 'make it so' captain argue with me about what the laws of physics will and will not allow, I'm gonna hang up my wings and get a new gig. You have any idea how much math is involved every time you point at 'the second star to the right' or whatever?"
Food consumption
Food production
"We're in a new star system, surviving by the skin of our teeth and the ingenuity of our engineers. I don't have the time or the luxury to not know things. Let the bureaucrats, the politicians, the philosophers, or whoever figure out the 'why's' of morality and the 'what's' of ethics; I'll figure out how to keep us all alive." - Areanna Clovar
¶ Crew efficiency and traits
The impact on the efficiency of each action, based on the number of class-aligned Crewmates present on a crew: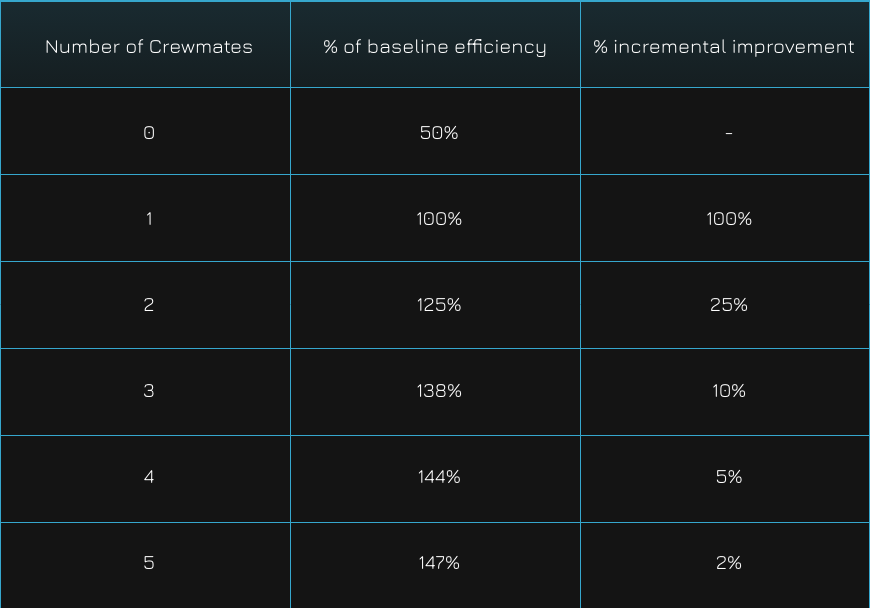 Certain traits associated with Crewmates, granted during the initial recruitment process, or through crew assignments for Arvad Crewmates, provide for impactful bonuses. These bonuses further modify the actions above, and, prior to Discovery, are the source of variation amongst crew. The following traits are present in Exploitation and selectable as part of the Crewmate creation process (or earned during the Arvad crew assignments):
Pilot

Buster - increased top ship acceleration4
Navigator - increased ship propellant efficiency
Operator - reduced rate of wear during ship operation3

Engineer

Builder - reduced material requirements for building construction
Mechanic - decreased cost for ship repair3
Refiner - increased refining yield while refining raw materials

Merchant

Hauler - increased ship cargo capacity
Logistician - reduced surface transport fuel costs
Mogul - increased market volume capacity

Miner

Prospector - increased viability gain per core sample
Recycler - decreased loss when reprocessing materials
Surveyor - increased core sampling speed while surveying an asteroid

Scientist

Dietitian - decreased food consumption by crewmates
Experimenter - decreased time to next invention4
Scholar - decreased time to next technology4
3. Traits become impactful with the release of repair / reprocessing during Exploitation
4. Traits become impactful upon the release of Discovery
¶ Additional Features and Information
Each Crewmate consumes one ton of Food per Adalian year (~15 real days). Food reserves will dwindle regardless of actions taken and once empty, will not allow the crew to: start an Extractor, Refinery, Factory, or Shipyard process, construct a building, start a flight, utilize instant surface transport or activate an inactive Crewmate. Manual surface transport and market orders are possible when Food reserves are empty. The rate of Food consumption can be reduced by the presence of a Crewmate with the Dietitian trait, as well as the stationing of the crew in a Habitat building.
Crewmates that do not take an action, or are inactive, for over one Adalian year (~15 real days) will have their Food cost capped at one ton per Crewmate upon their next action/activation. In cases in which Food is unobtainable, the crew is able to evacuate via their Hab Module at low speed to a nearby asteroid.
Logs of each Crewmate's actions are kept and visualized and can be further embellished by the player. Any individual event can have additional context added which will be visible to all players when viewing the Crewmate's profile. The content may be edited until such time the Crewmate is transferred to another player, at which point all previously created content becomes immutable.
Crew events are short, branching storylines with meaningful decisions that impact the player's Crewmates. These events are integrated into the SWAY activity incentives, and allow for the continued distribution of SWAY in a targeted manner. Crew events may result in the assignment of new traits to Crewmates, or provide the option to switch between mutually exclusive traits. Events are pseudo-random, and can be triggered based on the presence of certain classes present in the crew, as well as on the completion of particular actions (ex. an event that is triggered by landing at an unexplored asteroid).
Each class has access to a class-specific skill tree, and although skills will not be introduced until Discovery, experience related to skills will be tracked throughout Exploitation. Upon the release of Discovery, crewmates with experience will start further along their relevant skill tree. Note: traits are distinct from, and may stack with, skills.
Statistically speaking, only half of every job title should exist per category for each tier of job titles below it. Example: 100 teaching assistants, 50 teachers, 25 professors, 12 Distinguished Professors. Crewmates with tier 1 job titles are extremely rare.
A crewmate with the Department Head, Specialist, or Citizen distinction will also have a job title. Job titles are the roles they performed on the Arvad, the ship that brought everyone to Adalia.

There are thirteen categories of jobs; each category has four titles and one unique Department Head.

A crewmate "inherits" bonuses in-game from its job title, and the size of that bonus depends on the title's tier. "Tier 1" is the highest possible bonus a Citizen or Specialist can have. The number of job titles available across each category varies, but "Management" is the most highly skilled and rarest of them all. These bonuses are still being developed and balanced.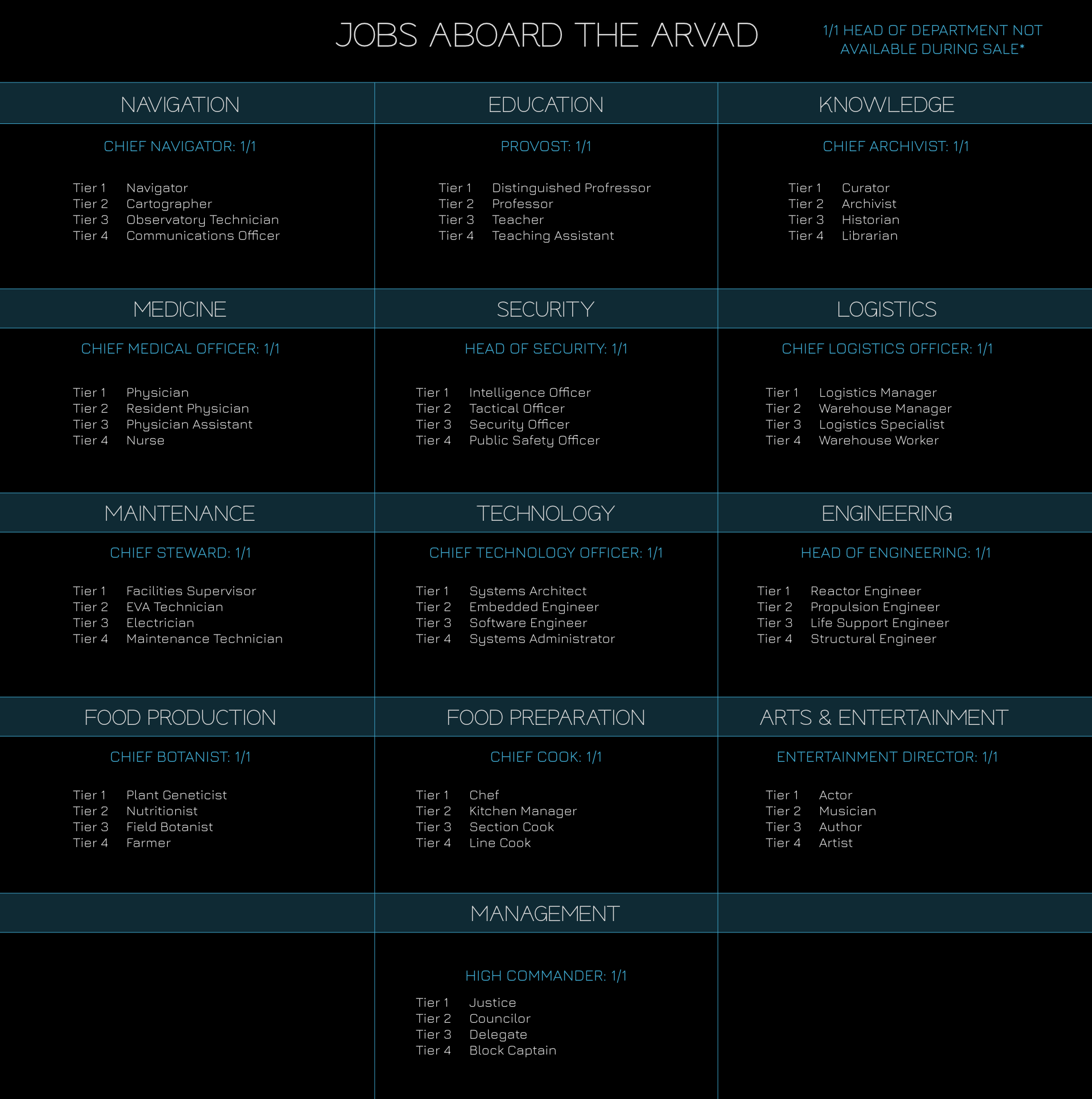 Navigation: Bonus to ship speed/fuel usage
---
Education: Bonus to learning
---
Knowledge: Bonus to research variety
---
Medicine: Bonus to max ship speed/damage reduction/food consumption efficiency
---
Security: Bonus to ship damage/damage reduction
---
Logistics: Bonus to storage/reduction in surface transport costs
---
Maintenance: Bonus to building & ship operating efficiency
---
Technology: Bonus to research speed
---
Engineering: Bonus to refining/manufacturing efficiency
---
Food Production: Bonus to food production
---
Food Preparation: Bonus to food consumption efficiency
---
Arts & Entertainment: Bonus to market fee efficiency
---
Management: Bonus to the overall efficiency
---
You can browse every Influence crewmate and purchase them from other players on OpenSea: LINK TO OPENSEA